Programs & Events for Kids
Summer Library Program
Hey Kids!  Looking for something fun to do this summer?  If yes, stop by the school and/or park on the following dates for some super awesome activities:
June 14th – Noon at the school.
Mad Science will be performing "Build A Better World". Join Mad Science as we investigate what goes into constructing buildings that will stand the test of time! A real Mad Scientist will recreate Egypt's Pyramids and construct a giant Roman Arch! We will need a lot of kids to help, so grab your hard hats and join us for some building fun.
June 21st – Noon at the school.
Soda Pup Dog Show. Meet Jack Zolkowski's Pomeranians the Soda Pups! These pooches have tons of talent and will perform tricks that show off their talents. There will be feats of agility and amazing acts of obedience. And YOU may even get to be part of the show! Fun for the whole family.
June 28th – Noon at the school.
Mark Hayward's family Comedy Show. Tricks and Humor the whole family can enjoy. Whether you are looking for a world class yo-yo performer, a comedy juggler, a keynote speaker, or just an engaging guy who is really good at playing with toys, you have come to the right place. Yo-yoing offers wide ranging appeal, from adults who played with yo-yos when they were young, to today's children with their best yo-yo years still ahead of them.
July 12th – Noon at the Park.
Traveling Lantern Theatre Company presents, "The Ribbles Build a Residence". The ABC's Architecture, Building and Construction. Soon after their lovely insect nuptials Mr. and Mrs. Ribble are expecting a baby Ribblet, and they need a new home for their family. Mr. Ribble wants to go big with a four grasshopper garage, but Mrs. Ribble convinces him to build a dream home that is more environmentally and neighborhood friendly. By playing interactive games and discovering basic building techniques, the audience will help draw a ground plan while Thia Tweet the bird architect and Gerry the Ant Contractor from Brooklyn assist the Ribbles in building a new home for a better world.
July 19th – Noon at the school.
The Great Scott presents "Character Construction" Magic Show. Magic and Ventriloquism combine to make a highly "constructive" show for 2017. Great Scott will present a few "tricks" to building trust, respect, and being more responsible – tying all of this back to reading and proper library etiquette. This will be another great program for kids and families.
July 26th – Noon at the Park.
David Landau "The King of Kids Music". The show will be an educational, upbeat musical program that involve children as active participants. The kids sign some, move some, act some, dance some, shout just a little bit, laugh a bunch, and learn some very important things. The adults just sit back and enjoy the show. Dave is a former first grade teacher, an award winning musician and entertainer, and he is very silly.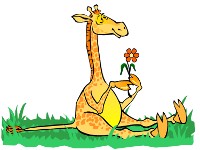 Storytime
Storytime will be held on the second Wednesday of each month during the school year (September-May) at 10 am.  Parents are encouraged to stay and participate.  All activities are free and open to the public and no registration is required.
Free Friday Flicks
Free Friday Flicks will be the fourth friday of every month starting at 3:00PM during the school year.
Movies and activities; popcorn and water provided
Past Program Photos
See our photos from past programs.